Company Profile
Joson-Care Enterprise Co., Ltd.
About Joson-Care
---
Business Concept
Mission: Serving all mankind through providing professional medical products
Vision: Improving healthcare environment, quality and efficiency
Core Value: SafetyFirst, Hight Quality and Long-term mutual trust and collaboration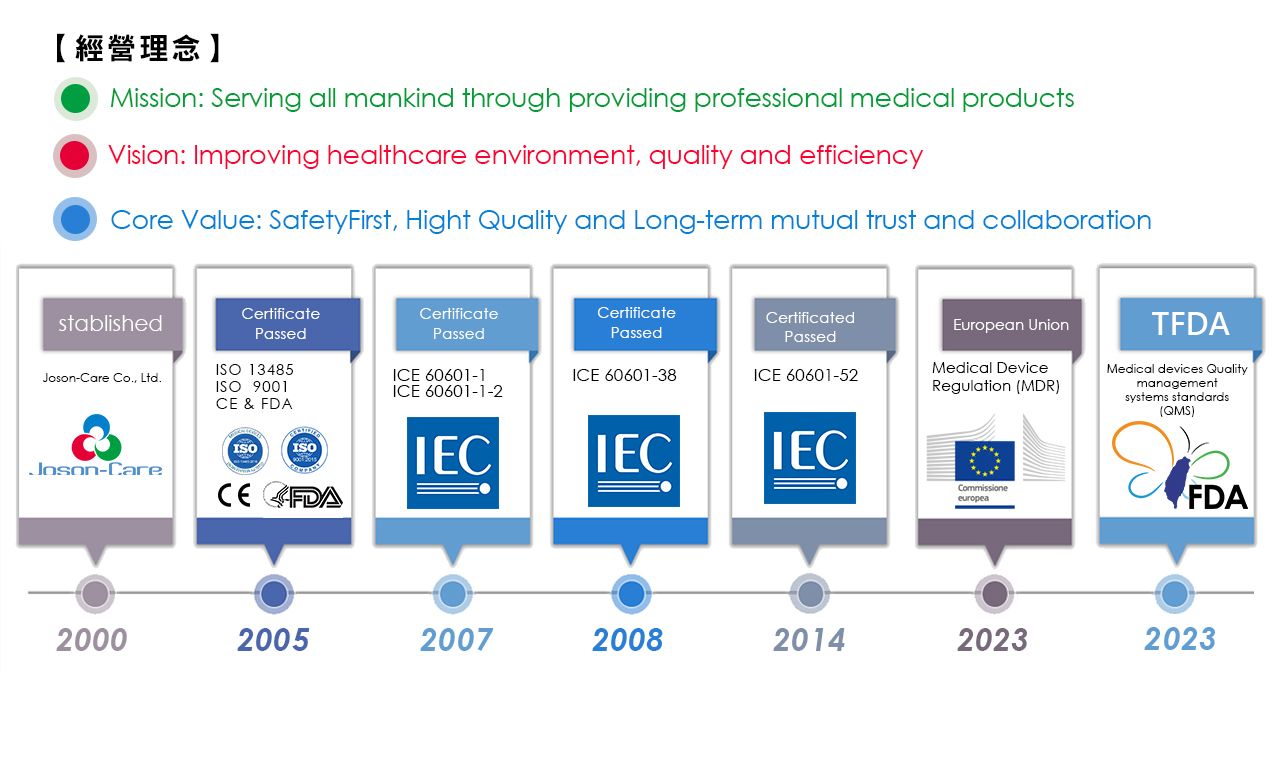 ---
Joson-Care enterprise Co. Ltd. was set up since 2000. Our main line is hospital bed and medical equipment. We would like to show you that we are the most experienced and most professional manufacture of hospital bed with excellent reputation in Taiwan. Our products are made in a very strict quality control process to assure accuracy, strength and reliability with competitive prices. We got proof by ISO-13485, LVD, EMC,FDA and CE certificate pass through, its new philosophy of high quality, good customer service and technology innovation. We assure you that our products are far superior in quality to any other suppliers' at the same price level.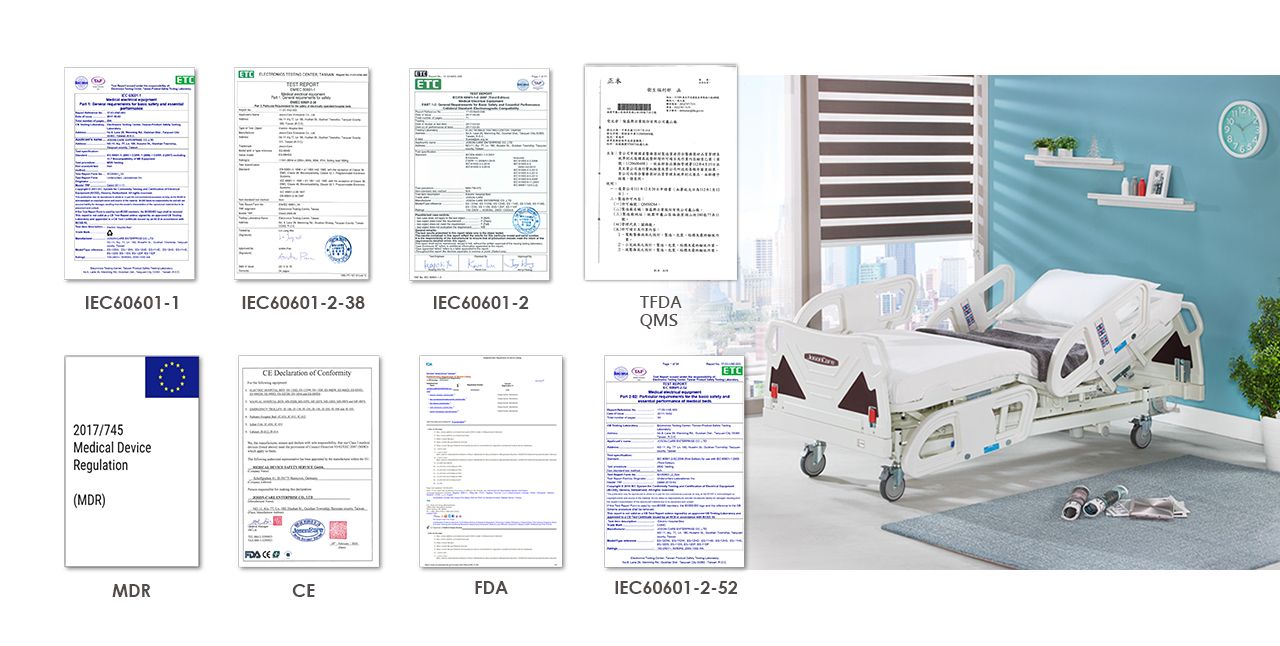 ---
Joson-Care Factory Introduce

The manufacturing system of Joson-Care Enterprise CO., LTD is divided into three parts of hospital beds, home care Beds and medical equipment. The monthly capacity of hospital beds and home care beds are 500~1000 units that are mainly supplied to Taiwan, Middle East and Southeast Asia and East Europe and South America markets. Joson-Care Enterprise Co.,Ltd is an international company with its foundations in the hospital bed and medical equipment manufacturing field. With over 15 years experience in this field and in drawing its expertise from many countries, we have ambitious plans and goals for the future.
We are also actively developing new series to meet the different requirements. We can make special specification by customers request even OEM according to our experienced research team. We will be making any efforts to server your interests and are looking forward to receiving your favorable response.
We are a well-experienced hospital bed manufacturer in Taiwan, has been specializing in producing hospital equipment, hospital furniture and accessories for over 15 years. Our main products include Electric Hospital Bed, Emergency Stretcher, I.V. Stand, PU Foam Mattress and Nursing Equipment, all with superior quality. Our products have secured ISO-13485 certification, superior quality is guaranteed. If you are searching for high quality Nursing Cart, Manual Medical Bed and Outpatient Equipment, please feel free to contact us.
---
Overseas Sales Performance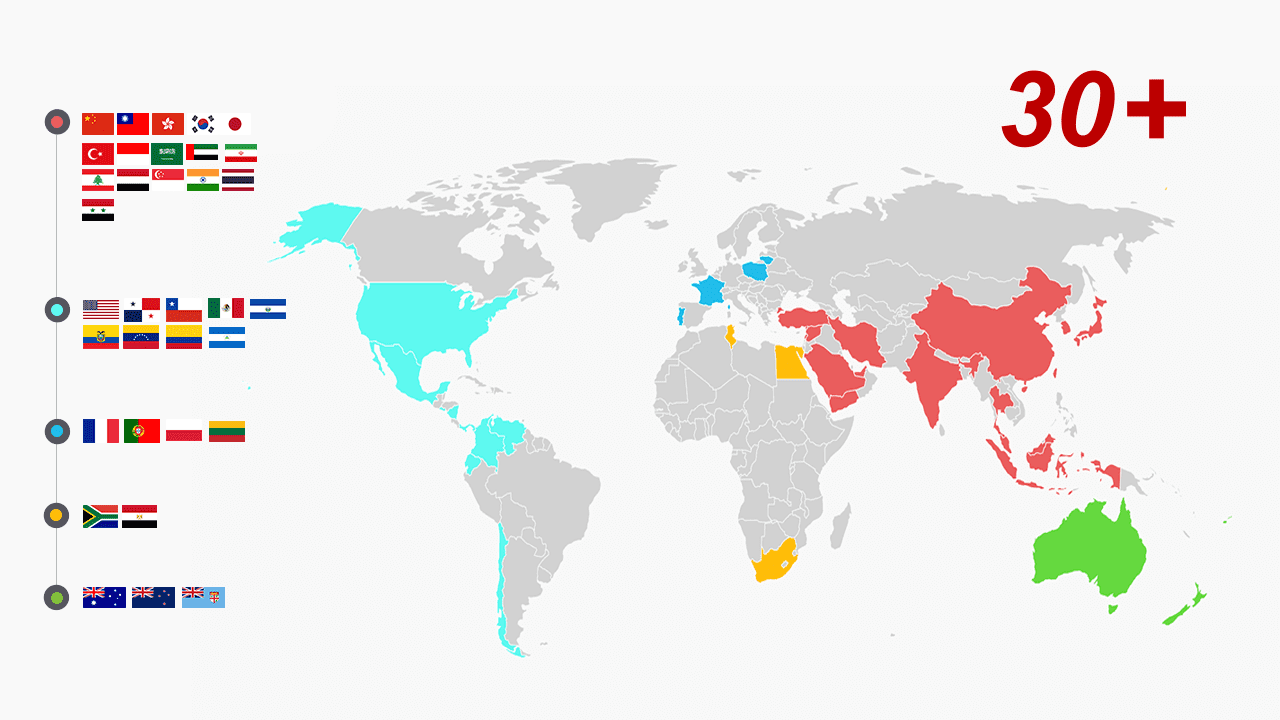 So far, we have sold our products to more than 30 countries. Such as Algeria, Chile, Colombia, Ecuador, Egypt, El Salvador, France, Hong Kong, Indonesia, India, Iran, Japan, Lebanon, Lithuania, Mexico, Nicaragua, Panama, Poland, Portugal, Pure, Saudi Arabia, Singapore, South Africa, South Korea, Syria, Thailand, Turkey, U.A.E, U.S.A, Venezuela and Yemen.
Our selling system is setting the representative distributor in each country first, then according the potential of market and their sales achievements to set the exclusive distributor.
There are more 20 distributors and 9 exclusive distributors in different countries we have now and it keep increasing year by year.